Garlic Butter Salmon with Lemon Asparagus Skillet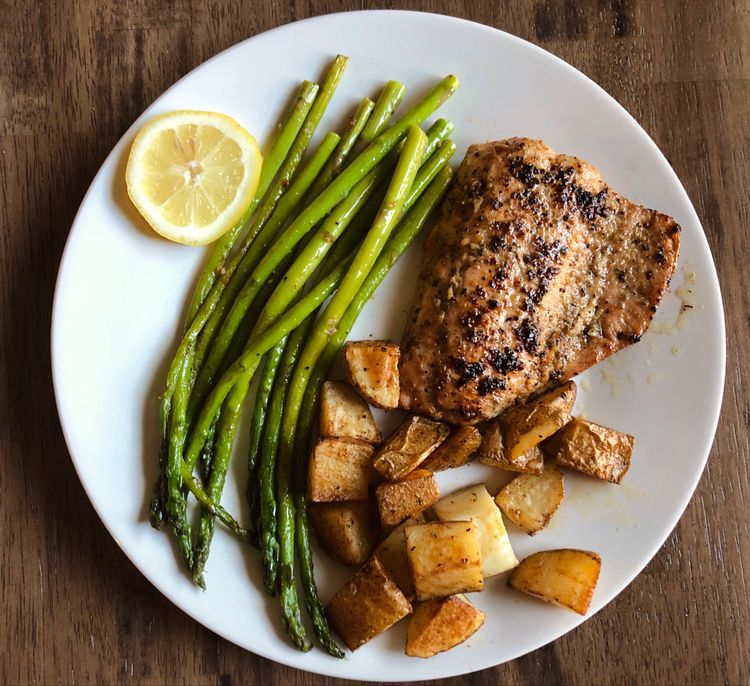 Are you looking for a recipe to help you eat more heart-healthy fish and vegetables? Add this dinner with salmon and asparagus to your rotation. Not only is it healthy and delicious, but it is also easy to prepare and clean with a breeze.
Garlic-Lemon-Pan Salmon is the simplest and most pea-friendly meal that can be prepared in less than 30 minutes. Keep your weekends simple, healthy and tasty!
INGREDIENTS
LEMON GARLIC ASPARAGUS:
-->
1 bunch asparagus trimmed
1 tablespoon salted butter
1 tablespoon avocado oil or algae oil
2 cloves garlic minced
zest of 1 lemon
sea salt and cracked black pepper to taste
GARLIC-LEMON SALMON:
1-1/2 tablespoons salted butter
1 tablespoon olive oil
1 1- pound salmon fillet
2 cloves garlic
½ tablespoons lemon juiced (about 2 )
sea salt
INSTRUCTIONS
PREPARE THE ASPARAGUS:
Heat the olive oil and butter in a non-stick frying pan over medium heat. Add the asparagus and cook for 3 minutes, stirring occasionally. Add the garlic and lemon zest and cook for another 2 to 5 minutes, depending on the desired intensity of flavor (I like my asparagus al dente). Sprinkle with sea salt and crushed black pepper and season to taste.
PREPARE THE SALMON:
Heat a medium non-stick frying pan to medium heat and add the butter and olive oil. Sprinkle the salmon fillet with sea salt and place it in the hot pan with the skin side up. Let it cook for 4 to 6 minutes (depending on the thickness of the fish) and turn it carefully on the other side. Cook for 3 minutes, add garlic and lemon juice and cook for another 2 to 3 minutes until the salmon is cooked through but still moist.
-->