Zucchini and Basil Rotini with Sauteed Tomatoes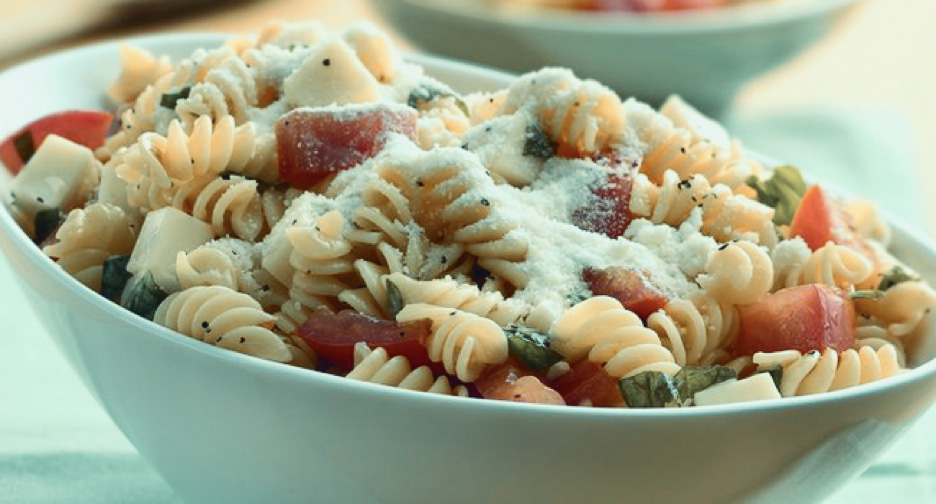 When it comes to summertime bounty, one of the first vegetables to come to mind is probably zucchini. If you've grown a summer garden, chances are you've grown an abundance of this green summer squash.
Mild in flavor, zucchini is delicious sauteed, grilled, or baked, and it can be complemented by other summer produce. In this simple recipe, zucchini is partnered with fresh tomatoes and basil to create a delicious dish. The fresher the ingredients are, the tastier the overall flavor will be.
-->
When choosing zucchini, it's probably best to pick squashes that are about 8 inches in length. Smaller zucchinis tend to be more tender, a little sweeter, and also less fibrous. Larger zucchinis also have harder seeds, which you'll likely end up wanting to discard if you end up grating larger squash for this recipe. Smaller zucchinis have smaller seeds that are softer.
If you want to add a touch of color to this dish, you can substitute a yellow summer squash, such as crookneck, for one of the zucchinis. You can choose whatever fresh tomatoes you like. Just slice them thin so they'll saute nicely in the pan and absorb the herbal flavor.  In any regard, we hope you enjoy this Zucchini and Basil Rotini with Sauteed Tomatoes recipe!
3-4 medium-sized zucchinis (about 4 packed cups)
1 teaspoon of salt (sea salt or table salt)
1/2 cup fresh basil, shredded
2 tablespoons olive oil
2-3 garlic cloves, minced
1-2 tomatoes, sliced
8 ounces rotini pasta
Pepper or lemon juice to taste (optional)
Grate zucchinis, skin and all, into a bowl. Mix in the salt and let the mixture sit for five to 10 minutes while you shred fresh basil leaves and mince your garlic. With clean hands, squeeze salted zucchini over the bowl. Discard the bright green water or save for stock.
Boil water for rotini and cook according to package directions.
Toss squeezed and grated zucchini with about 2/3 of your shredded basil leaves, reserving the rest for when you saute the tomatoes.
Heat 1 tablespoon of olive oil over medium heat in a skillet. Add the zucchini and basil mixture and saute for a few minutes, until everything is tender and fragrant. Drain rotini and toss with sauteed zucchini and basil, then set aside.
Using the same skillet that you just used, heat up the remaining olive oil on medium heat and add the last of the basil leaves. Then add your sliced tomatoes to the pan and saute, turning them once or twice, until they just start to brown at the edges. Serve tomatoes and basil on the side of the pasta and greens. Add a squeeze of lemon or some freshly grated pepper to taste.
-->