GINGERBREAD CRINKLE COOKIES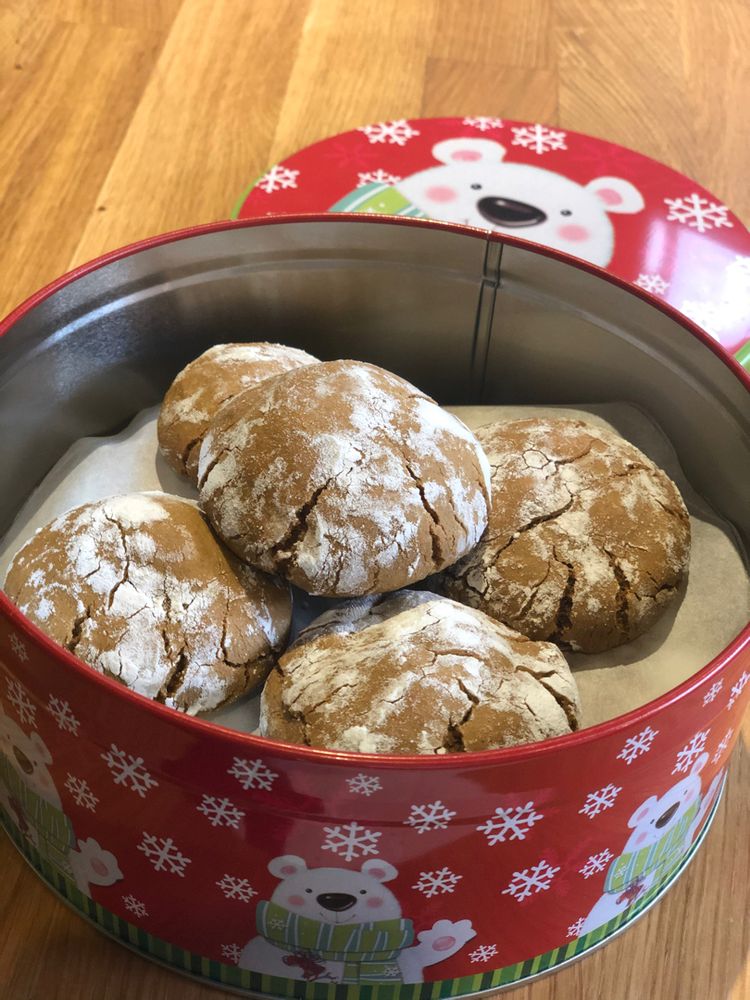 GINGERBREAD CRINKLE COOKIES are light, fluffy and spicy on the inside and sweet and crunchy on the outside. A delicious homemade gingerbread cookie recipe.
These gingerbread cookies were lovingly made according to an old recipe of our mother. This is how a gingerbread cookie tastes for us. I was quite shocked when I was a child and someone offered me one of these thin gingerbread man cookies. This is the gingerbread flavor my sister and I grew up with and we are proud to share it with you. We hope you like it as much as we do!
These are heavy on the spices and molasses. They are a bit tough, but mostly soft and delicious. They taste like heaven on a plate. A real holiday cookie.
INGREDIENTS
2 2/3

 

cups

 

all-purpose flour

1

 

cup

 

neutral oil

 

(avocado oil, vegetable oil or grape seed oil)

1/3

 

cup

 

molasses

1

 

teaspoon

 

pure vanilla extract

2

 

large eggs

1

 

cup

 

powdered sugar

2

 

teaspoons

 

baking soda

4

 

teaspoons

 

ground ginger

2

 

teaspoon

 

ground cinnamon

1/2

 

teaspoon

 

kosher salt

1 1/2

 

cups

 

white granulated sugar
-->
INSTRUCTIONS
Preheat oven to 350 degrees. Line two baking trays with a sheet of paper or parchment and set aside.
Put the all-purpose flour, ground ginger, cinnamon, baking powder and salt in the middle bowl. Whisk together until they mix.
Pour the sugar and oil into the bowl of a stand mixer with scoop attachment (alternatively, you can do this in a bowl with an electric mixer). Beat for about 1 minute until light and foamy. Pour in the molasses and vanilla extract; then, when the machine is running at low speed, add one egg at a time. Mix until they blend together.
Add the flour mixture and mix until no more flour speckles appear and the dough is cohesive, about 30 seconds to 1 minute. Cover the cookie dough with a clean kitchen towel or plastic wrap and place in the refrigerator for 1 hour to cool.
Sieve the powdered sugar into a bowl. This smoothes out the annoying lumps.
Use a medium-sized cake shovel to hollow out balls from the dough and roll them between the palms of your hands until balls form. Roll them in the sieved powdered sugar. The powdered sugar should be rather thick on top. I think it is our instinct to brush off the excess powdered sugar, but leave the powdered sugar on! Transfer the dough ball onto the laid out baking tray. Repeat the process with the rest of the dough, leaving a gap of about 4 inches per piece. They spread out a little bit so that they have some space. I baked about 6 cookies per sheet.
Put the first baking sheet in the oven and bake for about 10 to 12 minutes until they appear cracked and bloated. Take the cookies out of the oven and let them cool down on the baking sheets for at least 5 minutes before placing them on a cake rack. You will notice that they will fall off a little as they cool down – that's good!
Serve with milk or coffee.
EQUIPMENT
2 (half sheet) baking sheets
-->