Crockpot Brown Sugar Balsamic Glazed Pork Tenderloin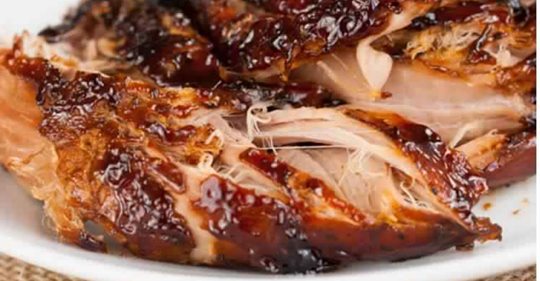 Crockpot Brown Sugar Balsamic Glazed Pork Tenderloin
To Make this Recipe You'Il Need the following ingredients:
Ingredients
-->
2 pounds Pork tenderloin
1 teaspoon Ground sage
½ teaspoon Salt
¼ teaspoon Pepper
1 clove Garlic; squashed
½ cup Water
½ cup Brown sugar
1 tablespoon Cornstarch
¼ cup Balsamic Vinegar
½ cup Water
2 tablespoons Soy sauce
Directions
1-Mix together the seasonings: wise, salt, pepper, and garlic.
2-Rub over tenderloin. Spot ½ cup water in moderate cooker; place tenderloin in moderate cooker.
3-Cook on low for 6-8 hours.
4-Hour before the dish is done, combine the elements for the coating in a little pot: dark colored sugar, cornstarch, balsamic vinegar, water, soy sauce.
5-Heat over medium and mix until blend thickens around 4 minutes.
6-Brush broil with coating 2 or multiple times during the most recent hour of cooking. (For a more caramelized outside: expel from simmering pot and spot on aluminum lined sheet skillet, coating, and set under oven for 1-2 minutes until bubbly and caramelized. Rehash 2 to 3 additional occasions until wanted covering is accomplished.)
7-Serve with residual coating as an afterthought.
-->