The Best Old Fashioned Stuffed Cabbage Rolls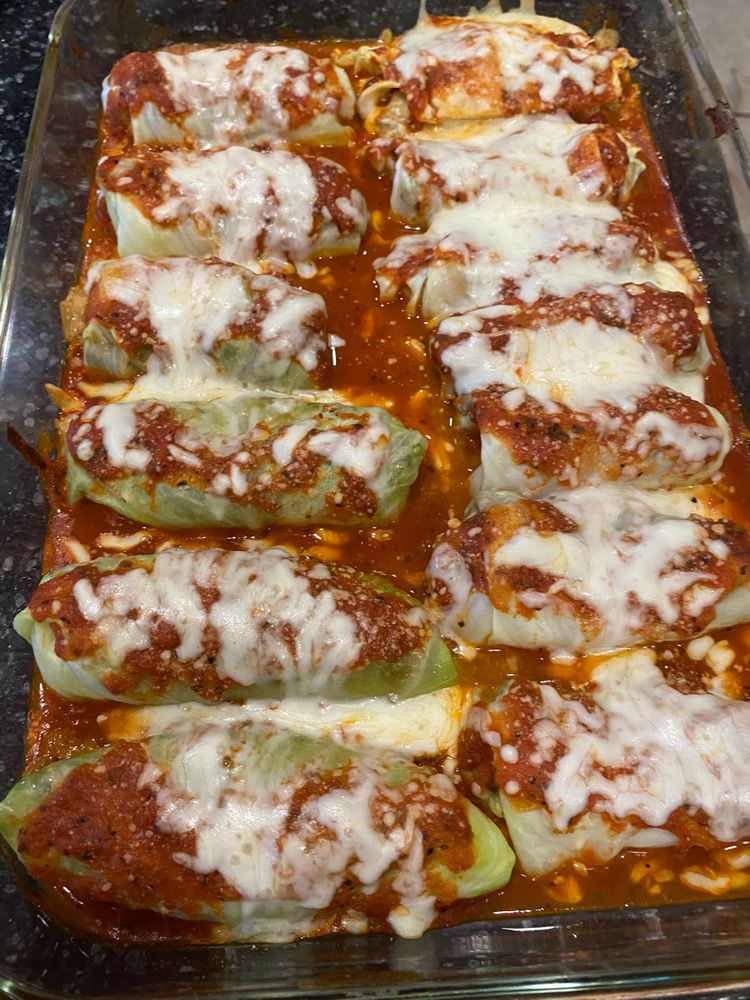 This dish is amazing – just like my Polish "Gram" used to make! Some details… 1. Core the cabbage, parboil for around 5 minutes and remove the leaves as they loosen. 2. Remove all the leaves from the cabbage, and line your roasting pan with some extras, along with cover the tops of your rolls with some extras. They will burn, but your rolls won't! 3. Trim the thick vein on the backs of the leaves you plan to roll, and you will not need toothpicks or string. 4. Buy two cans of tomato soup. I used one, realized it wasn't enough, had my husband go out and get another, and halfway through the baking time, removed the top leaves, added the other can of soup, then put the top cover leaves back on. 5. Bake, in a covered roasting pan at 350 degrees for 1.5 hrs. SO GOOD. Hope this was helpful!
This is exactly how my Polish mother in law made hers with the tomato soup in a large dutch oven in a bigger volume, everything doubled but much more soup, maybe 4 cans at least. My own Ukrainian mother used crushed tomatoes for the sauce but it might have been the Italian influence of my dad. Both delicious but a lot of work when using more than 8 leaves of cabbage. DO NOT DO THE SHORT CUTS OF USING RAW RICE. IT IS MUCH BETTER WITH THE COOKED RICE. This is Polish, Ukrainian, Russian, Hungarian etc comfort food as far as home cooking goes. They are made without the ground beef at Christmas Eve time. My husband would always pick off all the cabbage so often I just make the filling into porcupine meatballs with the same sauce. A lot less work but authentic cabbage roll recipe as shown here. However, I doubt if they used tomato soup in POLAND. Probably that was all the grandmother could find on the shelves here at least in our family. The reason we always made more than 8 is that it is a lot of work but they go fast….better the next day. If my memory is correct these are called Golumpki or Golabki or Holubtsi depending on which language they spoke. Sometimes it sounded like Gowumpki. My mother in law sometimes made them with ground pork in stead of beef but my mom made them with the ground beef. Stiff cabbage leaves are a no no and hard to wrap around the meat and rice filling. Use regular white rice, not minute rice. Yummy.
Ingredients
2/3 cup water
1/3 cup uncooked white rice
8 cabbage leaves
1 pound lean ground beef
1/4 cup chopped onion
1 egg, slightly beaten
1 teaspoon salt
1/4 teaspoon ground black pepper
1 (10.75 ounce) can condensed tomato soup
-->
How To Make It
In a medium saucepan, bring water to a boil. Add rice and stir. Reduce heat, cover and simmer for 20 minutes.
Bring a large, wide saucepan of lightly salted water to a boil. Add cabbage leaves and cook for 2 to 4 minutes or until softened; drain.
In a medium mixing bowl, combine the ground beef, 1 cup cooked rice, onion, egg, salt and pepper, along with 2 tablespoons of tomato soup. Mix thoroughly.
Divide the beef mixture evenly among the cabbage leaves. Roll and secure them with toothpicks or string.
In a large skillet over medium heat, place the cabbage rolls and pour the remaining tomato soup over the top. Cover and bring to a boil. Reduce heat to low and simmer for about 40 minutes, stirring and basting with the liquid often.
-->