HOLIDAY ANTIPASTO WREATH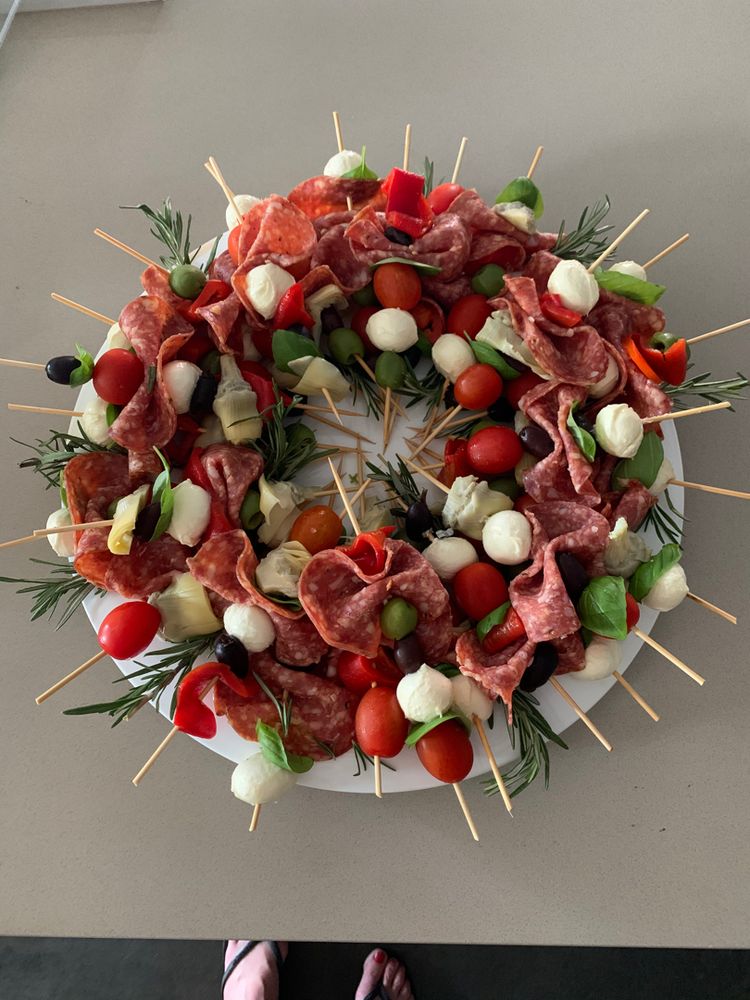 This HOLIDAY ANTIPASTO WREATH is an amazing idea for a Christmas starter! Made with peppered salami, mozzarella balls, olives, cherry peppers, artichokes and fresh basil. A simple and healthy starter, perfect for the holidays.
A simple and beautiful Christmas starter
Today is the day. Mike has his company Christmas party and I look forward to it every year. It's the only time when I, as the boss's wife, get to know all his employees, including his spouses, and have a chance to interact with them.
INGREDIENTS
-->
30 to 40 (4-inch) skewers
1 (6 ounce) packaged thin sliced salami*
1 (15 ounce) jar quartered artichoke hearts (in water)
1 (16 ounce) jar sweet cherry peppers, drained, seeded and halved
1 (8 ounce) container Fresh Mozzarella Ciliegine
1 pint cherry tomatoes
pepperoncini
pitted olives**
fresh basil
fresh rosemary sprigs
balsamic glaze, for serving (optional)
Italian dressing, for serving (optional)
INSTRUCTIONS
Arrange the ingredients in bowls.
Mix them and thread some of them on skewers. I usually stop when I have finished the salami and mozzarella.
Place the skewers on a round plate in the shape of a wreath and layer them 2 or 3 times on top of each other.
Use small rosemary twigs and place them randomly in different places in the wreath.
-->