Copycat IHOP Grinch Pancakes Recipe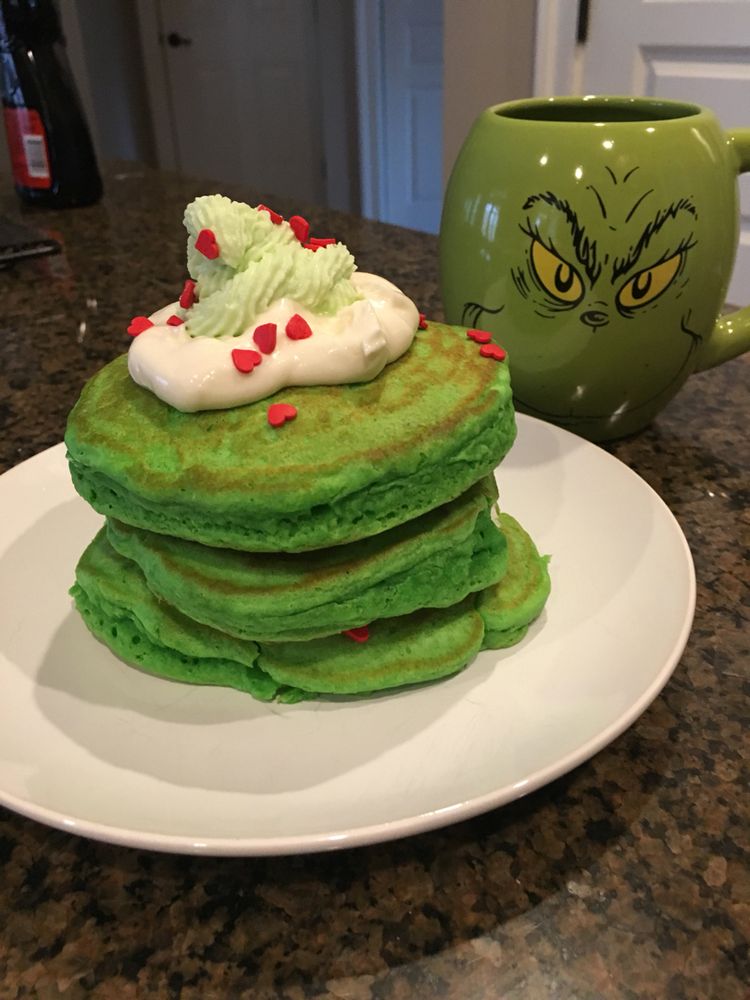 If you are looking for a festive Christmas breakfast recipe, these delightful and fluffy Grinch pancakes are just the recipe you need!
Have you been to IHOP for some Grinch pancakes?
-->
I enjoyed every bite of the fluffy green pancakes, which are covered with a sweet and silky cream cheese icing and a swirl of perfectly seasoned green whipped cream. Oh, and I can't forget the red sugar hearts that were sprinkled over them. They were also very tasty.
INGREDIENTS
PANCAKES
3/4 cup whole milk
2 tablespoons white vinegar (or lemon juice)
1 cup all-purpose flour
2 tablespoons granulated sugar
1 teaspoon baking powder
1/2 teaspoon baking soda
1/2 teaspoon salt
1 large egg
2 tablespoons butter, melted
lime green food coloring/gel
cooking spray
CREAM CHEESE ICING
4 oz cream cheese, softened
1/2 cup powdered sugar
1 teaspoon vanilla extract
1/4 cup heavy whipping cream
GREEN WHIPPED CREAM
1/2 cup heavy whipping cream
2 tablespoons powdered sugar, sifted
1/2 teaspoon vanilla extract
green food coloring/gel
red heart sprinkles
INSTRUCTIONS
Cream cheese glaze: Beat cream cheese and powdered sugar in a large bowl until well mixed. Add whipped cream and vanilla extract and beat for 2 minutes until light and frothy. Set aside.
Green Whipped Cream: Whip all ingredients in a large bowl at low speed with an electric mixer until bubbles form, then increase speed to high speed. Whip the cream until stiff peaks form. Keep in the refrigerator for up to 45 minutes.
Grinch pancakes: Mix milk and vinegar in a medium bowl and set aside for 5 minutes.
In a medium-sized bowl, whisk flour, sugar, baking powder, baking soda, soda and salt. Set aside.
Whisk egg, butter and green food coloring to a milk mixture. Add the flour mixture to the wet ingredients and whisk until there are no more lumps. Do not overdo it, the bubbles should keep the pancakes fluffy!
Heat a large pan over medium heat and brush with cooking spray. Pour 1/4 cup of batter into the pan and cook the pancakes until bubbles appear on the surface. Turn them over with a spatula and cook until they turn brown on the other side.
Cover pancakes with cream cheese icing, green whipped cream and a splash of large red heart crumble!
-->