10 Quick Tips to Conquer the Chicken Pasta Bake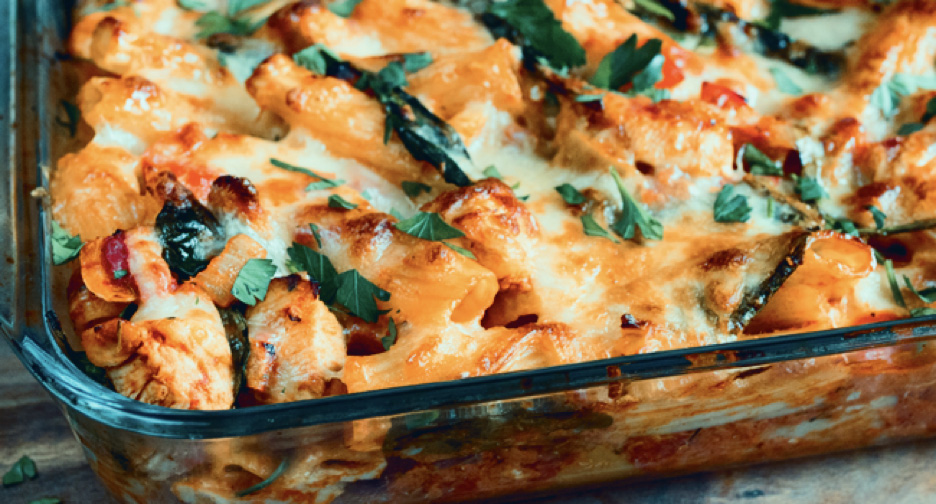 If you want to whip up something quick and easy for dinner, the quick and versatile chicken pasta bake is a perfect choice. It can even be prepared the day before and popped into the oven when required. This is an ideal dish for one or two people or you can even make enough to cater to a large group of guests. All you need to get you started is cooked pasta and a store-bought roast chicken. The best pasta choices are penne, macaroni, spirals, shells, elbows, or rigatoni. These pasta will trap the sauces within their shape, so with each mouthful, you will feel the ooze of a creamy sauce skimming and tantalizing your taste buds.
The sauce
-->
You can make a sauce from scratch using flour, butter, milk, and cheese or simply purchase a jar or two of ready-made cheese sauce.
Add a drained can of corn kernels
Add diced bacon
Add vegetables
Corn kernels are the staple add-in ingredient to a pasta bake but don't be afraid to add sliced zucchini, broccoli, cubed pumpkin or sweet potato or spring onions to the mixture. Lightly steam these veggies before adding.
Cheese Flavors
For extra flavor, mix together parmesan, tasty, and mozzarella cheese and stir into the pasta bake.
Seasoning
For a little zing, add a couple of crushed and finely diced garlic cloves or a finely diced onion. These are great flavor enhancers. No need to sauté, as the garlic or onion will cook in the oven with the pasta bake. However, if you wish for a softer onion texture, quickly microwave or lightly sauté before adding to a pasta bake.
Gourmet additions
Chopped sun-dried tomatoes, sliced green or kalamata olives, or baby spinach is a great addition to give a pasta bake a boost.
Flavor
Into the sauce mixture, add a Continental cup a soup such as chicken or mushroom to give extra flavor. Just mix the soup sachet with a little water or milk to make it smooth and then add to the sauce.
More flavor
Try adding Continental Creamy Mushroom Chicken recipe base to the pasta bake for a flavorsome meal.
Bake till golden
Sprinkle extra cheese on top prior to baking for a lovely golden crispy finish.
The humble chicken pasta bake is one recipe where you can unleash the creative cook inside you. Make the pasta bake specifically for who will be eating it; plain chicken pasta bake for children or gourmet chicken pasta bake for guests or entertaining. Buying a pre-cooked roast chicken and using the meat only, no skin is the easiest way to put together a chicken pasta bake. If you prefer, you can cook fresh diced chicken breasts to use instead of a store purchased a roast chicken. Whatever type of chicken you use and whatever ingredients you add, you can be assured that a Continental chicken pasta bake is a reliable never fail recipe.
-->