Stunning Black Bean Chili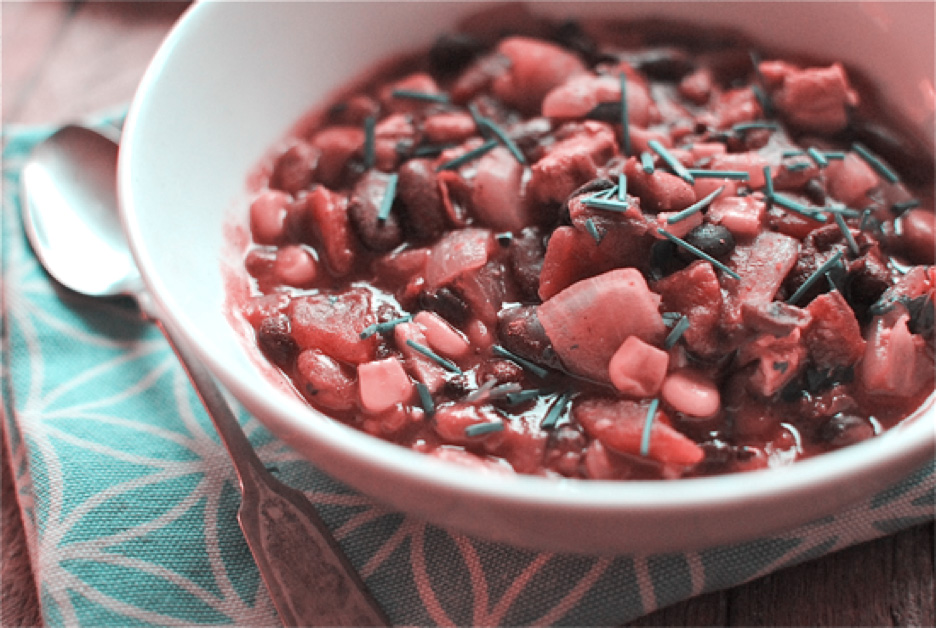 The best Vegetarian Chili
This Black Bean Chili is so versatile. There are countless ways in which it can be served and presented. I suggest any of the following;
-->
It can be served and garnished traditonally in bowls accompanied with the usual sides of Cheese, Sour Cream and chopped Cilantro leaves (Coriander).
An additional side of tangy Tomato Salsa makes an easy to prepare and delicious addition.
Serve it on/in a baked Jacket Potato, topped with a well matured shredded Cheddar Cheese. Place it under the grill (broiler) for a short while for the Cheese to melt.
It makes a great Vegetarian Chili Dog
Wrap the prepared Black Bean Chili in Burritos. Place the Burritos in an oven proof dish, top with shredded Cheese and bake for 15 minutes,until all the Cheese has Melted.
Enjoy it as an alternative to a Meat filling for Tacos.
Shred some Cheese into the Black Bean Chili and wrap it in warm Tortillas
Use it as a filling in Pita Bread. Add some crunchy shredded Lettuce and Bean sprouts to the filling… its yummy!
I like a hot Chili, so for this bean recipe I use 1 Habanero, 1 Jalapeno and 1 Cayenne Chili. I utilise the Chillies, with ribs, seeds and all. If you prefer a milder version then I would suggest just use Jalapenos, with the seeds and ribs removed. Alternatively just sprinkle in some powdered Chili to taste and drop the fresh Chili altogether. A further alternative is to use pickled Jalapeno Peppers.
A recent study and research program conducted jointly between the USA and Brazil (The worlds largest producer and consumer of Black Beans) found that they are extremely helpful in keeping our lower digestive tract (colon) healthy – moreso than even Lentils and Chickpeas.
They also recommend that we all eat the bare minimum of 3 cups of cooked Beans per week of which atleast half a cup should be Black Beans.
So there you have it – the perfect reason for feeding your family Beans.
I hope you like this Chili Recipe as much as I do.
Black Bean Chili
Serves 6 – 8
Ingredients
1 Green Capsicum (Bell Pepper), seeded and chopped
1 Red Capsicum, seeded and chopped
1 Large Red Onion, chopped
1 can (400g) diced/crushed Tomatoes
2 Bay Leaves
2 tbsp Cilantro (Coriander), finely chopped
1 tsp Paprika
1 stick Celery, finely chopped
1 Potato, peel on, washed and diced (small dice)
1 Carrot, peeled and diced (small dice)
3 Cloves Garlic, crushed
1 tsp Ground Cumin
3-4 Fresh Chillies of choice
1 Cup Vegetable Stock.
3 tbsp Olive Oil
2 tsp Sugar
2 tbsp Tomato Paste/puree
Salt and Ground Black Pepper to taste
Method
Drain the Black Beans and place them in a large pot. Add fresh cold water (about 2 cm above Beans), 1 tsp Salt and the Bay Leaves and bring to the boil
Once boiling point is reached, turn the heat down, cover and simmer for a further 30 minutes or until the beans are tender
Discard the Bay Leaves and drain the Beans and set aside
In a large frying pan, heat the oil and saute' the Onions, Capsicum, Chili, Garlic and Celery until soft
Add the spices (Paprika and Cumin) and continue cooking for another 2 minutes. Stir all the while to prevent the spices from burning
Add the Vegetable Stock, Cilantro, Potato, and Carrot dice to the onion mixture and cook on low heat for a further 10 minutes
Add the Tomato Paste, Sugar and canned Tomato. Cook uncovered for another 10 minutes, stirring occasionally until it has reduced to a consistency that you prefer. (I like it not to be too sloppy)
Add the cooked and drained Black Beans, and stir gently to blend the Chili well. Keep the low heat going until the Beans are heated through
Check seasoning and add further salt and Pepper to taste
Turn off the heat, cover and leave for a minimum of 20 minutes for the flavors to blend
Re-heat to required temperature and serve
Bon Appetit!
-->