Baklava Recipe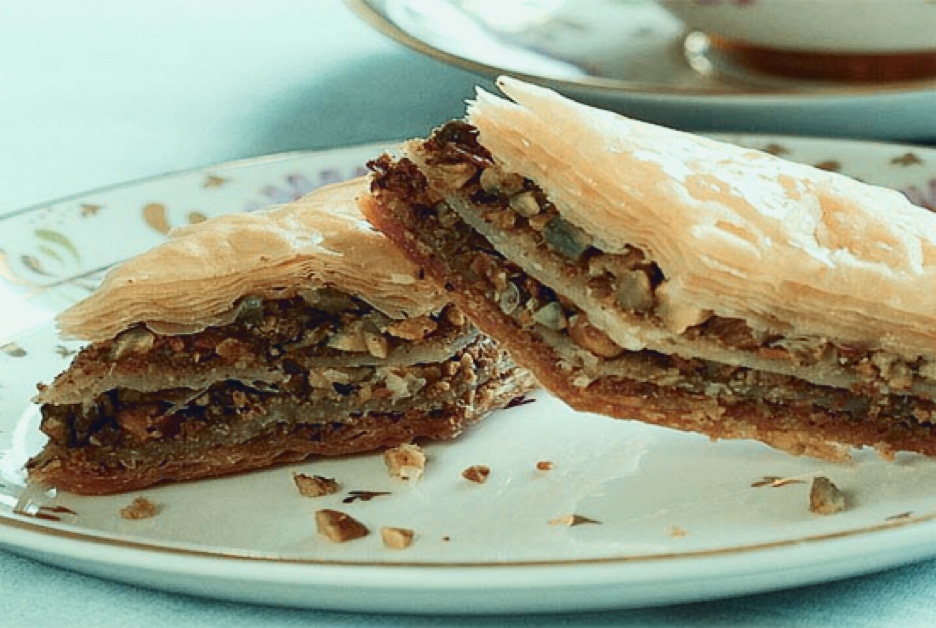 Ingredients:
Pastry:
1 pound shelled walnuts, coarsely ground
1 pound shelled almonds, coarsely ground
-->
1 cup granulated sugar
2 tablespoons ground cinnamon
1/2 teaspoon allspice
1 teaspoon nutmeg
1 teaspoon ground cloves
1/2 teaspoon mace
1 pound filo pastry
1 pound butter melted
whole cloves
Honey syrup:
3 cups granulated sugar
3 cups water
1 teaspoon fresh lemon juice
1 stick cinnamon
6 whole cloves
Peel of one orange–NOT grated
1 1/2 cup honey
1 teaspoon vanilla
One 10 1/2 by 14 1/2 by 2 inch baking pan, ungreased
Directions:
Step 1: In a large bowl mix nuts with sugar and spices. Brush bottom of the baking pan with melted butter. Then, brushing each with melted butter, place 6 sheets of filo in the bottom of the pan. Sprinkle on a thin layer of the nut mixture. Continue alternating filo, butter, and the nut mixture until all the nuts are used. Again, buttering between each layer, ad 6 to 8 more filo sheets to the stack in the pan. Butter the top.
Step 2: With a sharp, serrated knife, cut the baklava into vertical strips a full 1 inch wide. Be sure to cut to the bottom of the pan. Then cut these strips diagonally 1 inch wide to form the small traditional diamond shaped pieces. It is very important that the width of the diagonal cut be the same as that of the vertical cut.
Step 3. Bake in a 300 F oven for approximately an hour and 10 minutes, until evenly browned.
Step 4. During the last 45 minutes of the baking, prepare the honey syrup by combining the sugar, water, lemon juice, cinnamon stick, cloves, orange peel, and honey. Boil this syrup for 20 to 25 minutes. Add the vanilla at the last minute before using.
Step 5. Remove the baked baklava from the oven and immediately, but carefully, pour all but 3/4 cup of the boiling syrup over it. Return the 3/4 cup of syrup to the heat and boil for an additional 5 minutes.
Step 7. Allow the baklava to cool at room temperature for at least 6 hours before using.
-->