Taco Spaghetti To Die For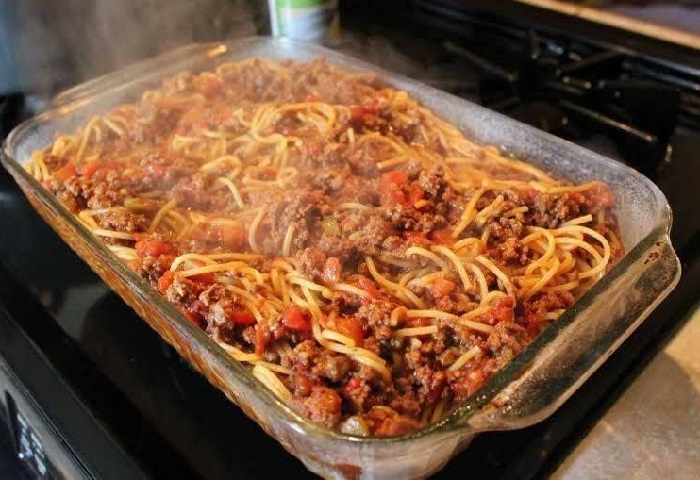 THIS EASY, FAMILY FRIENDLY CASSEROLE, DOTTED WITH MELTY POCKETS OF CHEESE, PROVES THAT TACOS AND SPAGHETTI ARE A MATCH MADE IN HEAVEN.
No joke here – everything gets dumped directly in, including the uncooked spaghetti. Also, no, the tomatoes ought not be depleted. The fluid is pivotal to help cook the pasta. At the point when prepared to serve, sprinkle on that cheddar to give it a chance to get all ooey gooey on top.
Ingredients
-->
8 ounces spaghetti
1-1/4 pounds lean ground hamburger or ground turkey
(1-oz) bundle taco flavoring
2/3 cup water
1 can (10.75-oz) cream of chicken soup
1 can (10-oz) can R-otel diced tomatoes with green chilies, undrained
1 (8-oz) bundle Velveeta cheddar, cubed
1-1/2 cups destroyed cheddar
Directions
Preheat stove to 350 degrees. Gently shower a 9×9-inch container with cooking splash. Put in a safe spot.
Cook pasta as per bundle headings. Channel. Put in a safe spot.
In a huge skillet cook ground hamburger over medium-high warmth until never again pink. Channel fat. Return meat to skillet. Include taco flavoring and water. Blend to consolidate. Cook for 5 minutes.
Blend in soup, Velveeta and Rotel tomatoes. Diminish warmth to low, and cook until the cheddar dissolves, mixing always.
Blend in cooked spaghetti and fill arranged dish. Top with cheddar.
Prepare for 30 minutes or until warmed through.
Sustenance Facts: Servings Per Container 4
Sum Per Serving:
Calories 582.3 | Calories from Fat 235.8 | Total Fat 26.2g | Saturated Fat 11.1g | Trans Fat 0g | Cholesterol 83.2mg | Sodium 1282.2mg | Total Carbohydrate 51.8g | Dietary Fiber 4.5g | Sugars 6.2g | Protein 33.1g
-->